Exciting addition to McMillin Eyecare
Dear patients and friends,
We are so pleased to announce that Dr. Katherine Randolph, OD will be joining McMillin Eyecare July 5, 2021.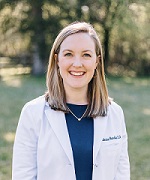 Dr. Randolph brings a wealth of knowledge to our practice, having been an Optometrist for several years in both Georgia and Mississippi, and is trained in primary eye care and ocular disease for both adults and children. She received her Doctorate of Optometry from the University of Alabama at Birmingham and completed a residency in ocular disease at Georgia Eye Partners in Atlanta, Georgia. She fits a large variety of contacts, including scleral lenses, and is skilled in seeing infants as part of the AOA community program, InfantSee. Dr. Randolph is involved in several professional organizations including the Tennessee Association of Optometric Physicians, the American Optometric Association, and is a Fellow of the American Academy of Optometry.
Dr. Randolph and her husband, David; along with their 2 children are excited to make Kingsport their home. She attends Colonial Heights Presbyterian Church where her husband has been called as the pastor. They enjoy being outdoors, traveling, and cheering on the Clemson Tigers! We hope you will join all of us in welcoming Dr. Randolph and her family to East Tennessee.
In addition, Dr. Cham McMillin will continue to be an essential part of our practice and provide care to his patients as he has for the past 42 years while working on a reduced schedule. Dr. Billy McMillin will continue to see patients on a full time basis.
With 3 doctors and our amazing support staff, we are confident we will continue to provide the highest quality of vision care possible. Our doctors and staff are a close-working team dedicated to meeting your eye health and vision care needs.
Sincerely,
William P. McMillin OD
William C. McMillin OD